Sponsorhip
Sponsors can provide financial assistance for the schooling and the professional reintegration.
This excludes any possibility of adoption.
A monthly donation of 25CHF (i.e. 0.83CHF/day), payable on a yearly basis shall:
Cover a child's yearly tuition, supplies (school bags, notebooks, pens).

Contribute to the social environment of the child's family, school and village.
A contract shall be drawn up to formalize the sponsorship.
You will contribute to lasting changes in the lives of the child's family, his region, and all of Madagascar.
The sponsorship may be canceled at any time, with a minimum of a year's commitment.
Download the form "Formulaire de promesse de parrainage"
Donations
Support our actions in favor of children with :
Financial contributions: any amount coming from the heart is welcome.
That is :
To guarantee long-term sponsorship of the beneficiaries in case of early termination of the contract.
To pay for the cost of sending collected goods to Madagascar and clearing customs and for operational costs.
Material donations: the list will be updated according to actual needs
Currently, we gladly collect and send to Madagascar :
Functional laptops, printers, retro-projectors, smartphones, cameras, USB keys, etc to strengthen the volonteers' capacity in Madagascar.
School kits (school bags, pencil cases, colored pencils, 4 color pens, etc) for children.
Sports equipment and accessories.
Bicycles and sewing machines.
Clothing items for all ages and all seasons.
You may also offer your time to give us a hand (in Switzerland or in Madagascar).
Download the form "Formulaire de dons"
Centers visit and tourism in Madagascar
For the most complete transparency, the sponsors, donors and members are welcome to Madagascar to visit our activities centers and the children benefiting from CVM's support.
Up to your tours'choice, it would be possible to visit our activity centers represented below :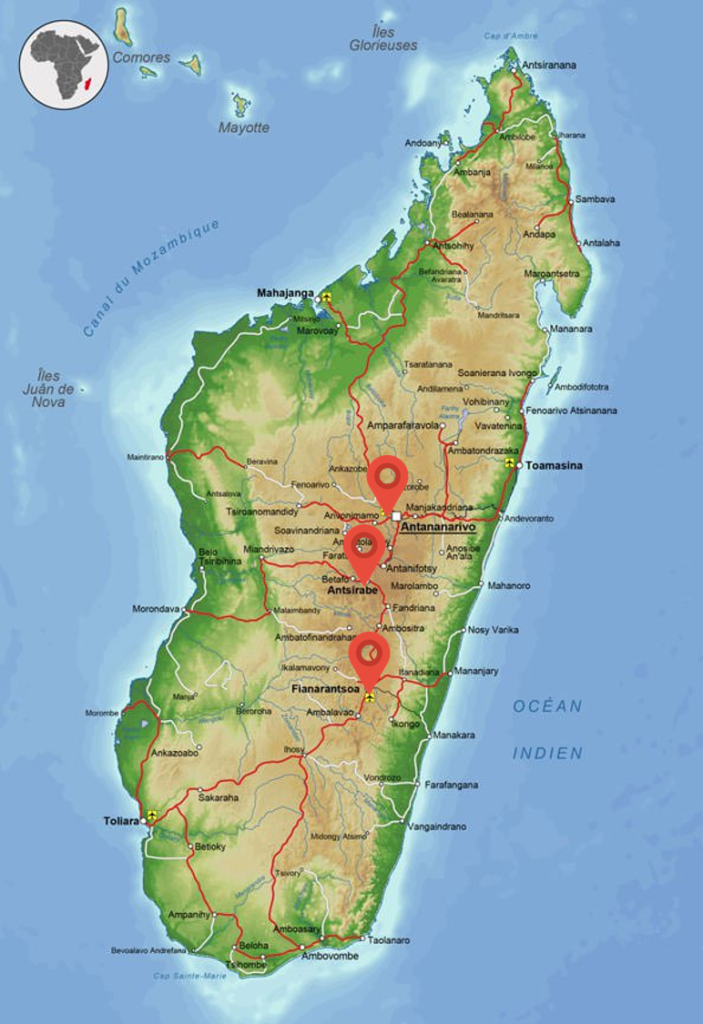 Visit the children benefiting CVM's support and you will realize the importance of your help. An enriching exchange, Another culture!
Concerning the tourism, we will put you in direct contact with professional tour operators in Madagascar. CVM Switzerland will assist you with your travel arrangements.
Membership of CVM Suisse
CVM Suisse works with individuals, communities or other associations to achieve its objectives.
Can be members, anyone interested in the realization of his vision.
Become a member of CVM Suisse with a monthly contribution of 10CHF, payable on a yearly basis for :
Miscellaneous administrative expenses.
Storage costs, local transport to collect donations in Switzerland, etc.
Member benefits :
Members shall be the ambassadors of the association everywhere.
Members shall receive the financial reports.
Members shall be included in the list of CVM Suisse members.
Download the form "Formulaire d'adhésion"
Bank account details
Donors will be thanked by name in the newsletters, unless they prefer to remain anonymous.
BANK ACCOUNT (CHF)
BANK ACCOUNT (EUROS)
Account owner

Association Croire et Vouloir pour Madagascar (CVM Suisse)
Chemin de Tolochenaz 7
1110 Morges
Switzerland

Address
BCV
Rue du Pâquis 1
1033 Cheseaux-sur-Lausanne
Switzerland

Account details

IBAN : CH 88 0076 7000 U540 9221 4

Code SWIFT/BIC : BCVLCH2LXXX

Account owner

Association Croire et Vouloir pour Madagascar (CVM Suisse)
Chemin de Tolochenaz 7
1110 Morges
Switzerland

Address
BCV
Rue du Pâquis 1
1033 Cheseaux-sur-Lausanne
Switzerland

Account details

IBAN : CH 61 0076 7000 L540 9216 8

Code SWIFT/BIC : BCVLCH2LXXX